2022 Plant Disease and Insect Clinic Year in Review
Find this article at:
go.ncsu.edu/readext?922149
en Español

El inglés es el idioma de control de esta página. En la medida en que haya algún conflicto entre la traducción al inglés y la traducción, el inglés prevalece.

Al hacer clic en el enlace de traducción se activa un servicio de traducción gratuito para convertir la página al español. Al igual que con cualquier traducción por Internet, la conversión no es sensible al contexto y puede que no traduzca el texto en su significado original. NC State Extension no garantiza la exactitud del texto traducido. Por favor, tenga en cuenta que algunas aplicaciones y/o servicios pueden no funcionar como se espera cuando se traducen.

English is the controlling language of this page. To the extent there is any conflict between the English text and the translation, English controls.

Clicking on the translation link activates a free translation service to convert the page to Spanish. As with any Internet translation, the conversion is not context-sensitive and may not translate the text to its original meaning. NC State Extension does not guarantee the accuracy of the translated text. Please note that some applications and/or services may not function as expected when translated.

Collapse ▲
OK I know it's March, so I am going to blame a warm early season this year for our delay getting this done. Better late than never, I guess!
Regardless, in total the Plant Disease and Insect Clinic and Turf Diagnostic Lab received 2,927 sample submissions in 2022, only a slight increase (4%) over the previous year. Excluding the turf, ornamental grasses, and sedges, the number is 2,477, a very slight increase (2%) over 2021. Of those, 2416 (98%) came from within the state of North Carolina. Most were samples for diagnosis, but 36 were tobacco for blue mold screening.
Note that most of these summaries do not include turf samples. For a summary of 2022 from the NC State Turf Diagnostic Lab, please see their annual review.
Samples came from every county last year, with numerous counties submitting multiple samples throughout the year. Wake county submitted the most sample with 346. Here are the counties that submitted the most samples: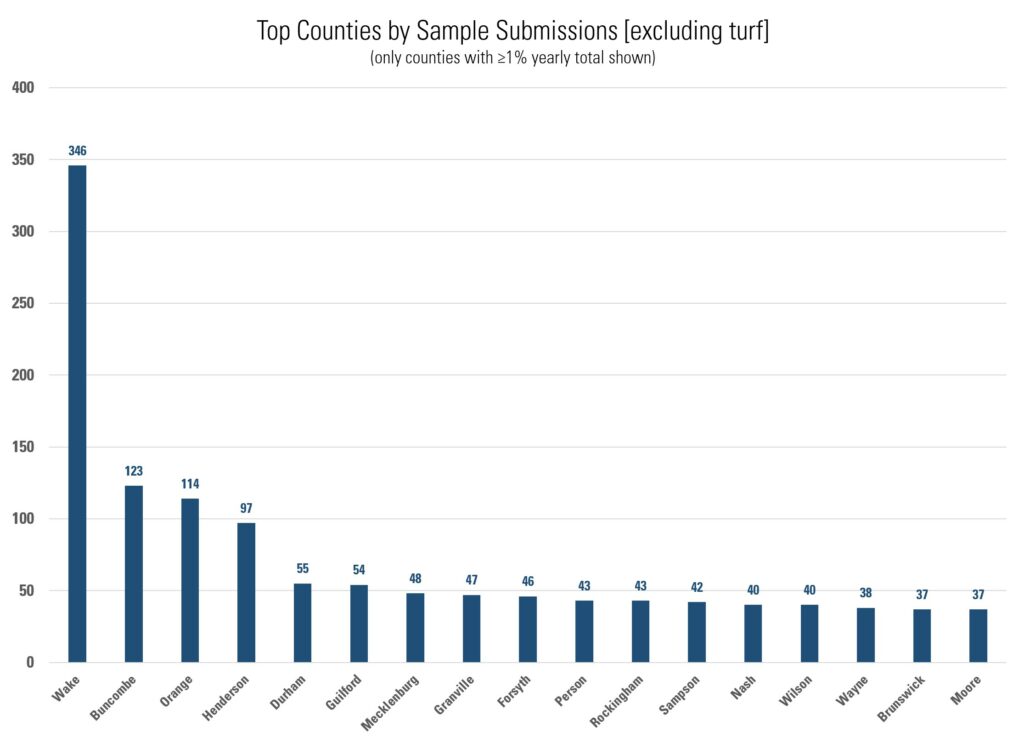 As expected, the summer months were the busiest, with the lab receiving more than 300 samples in both June and August. At 373 samples total, June averaged around 17 samples per day!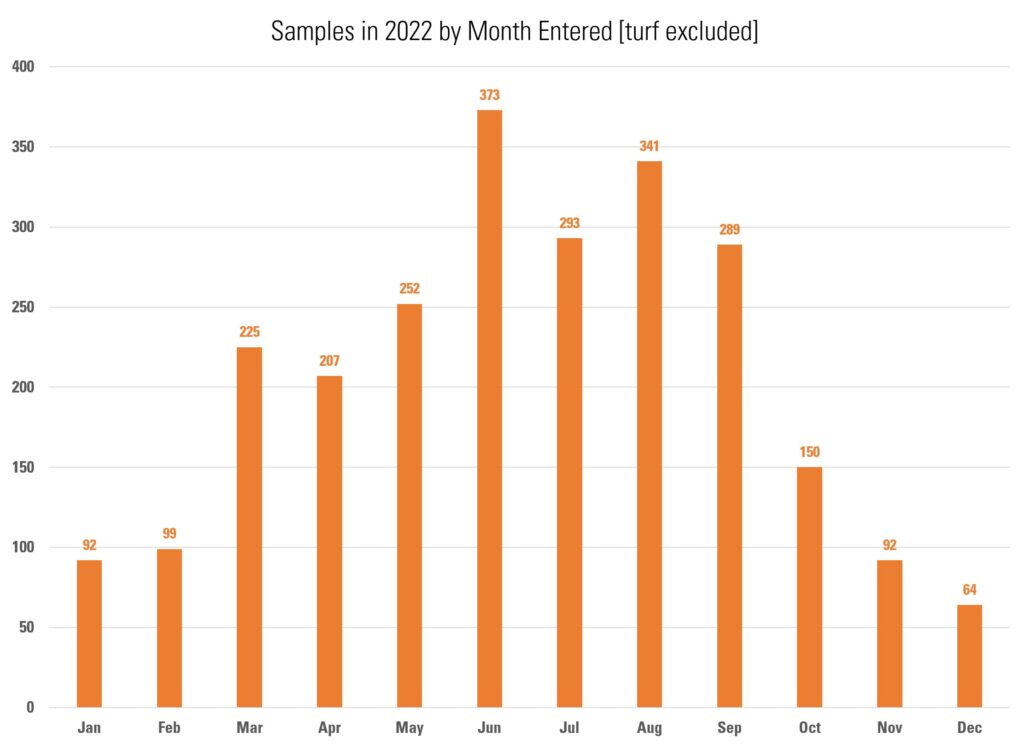 Samples can consist of images only, physical samples only, or a combination of both. In 2022, most samples were physical only (43%), closely followed by image-only samples (34%), then a combination of both (23%). This is similar to what we saw with 2021 samples.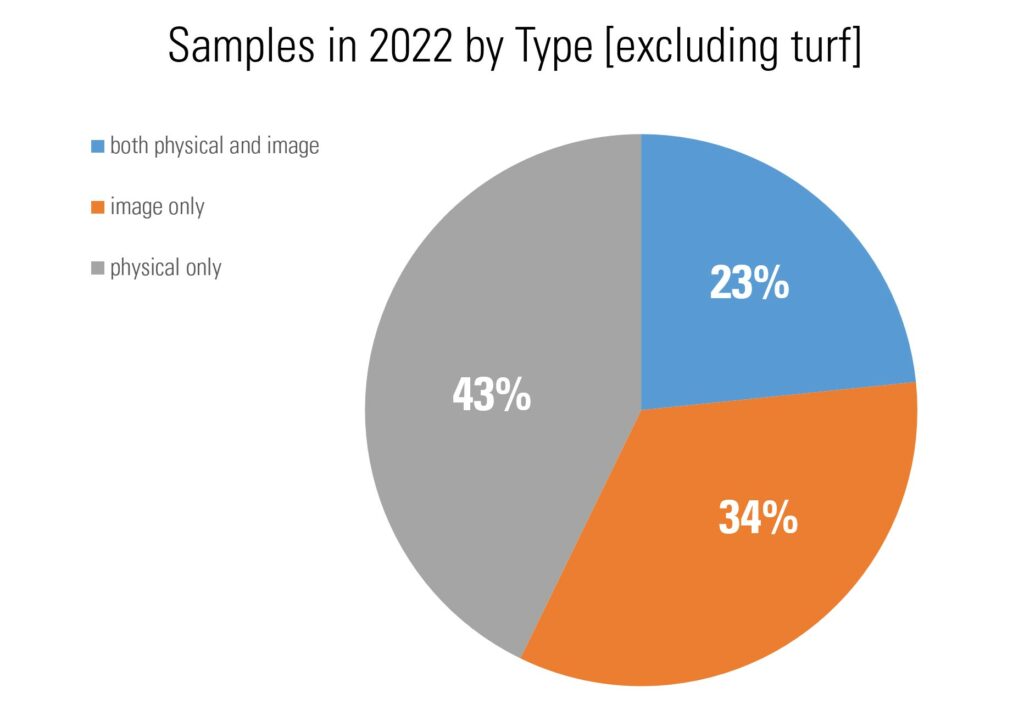 These samples were submitted by different types of clients. Although direct submissions by clients made up 34% of all submissions, the remaining samples were submitted by state agricultural extension agents, various consultants, or a combination of them. Again, the breakdown is very similar to 2021 numbers.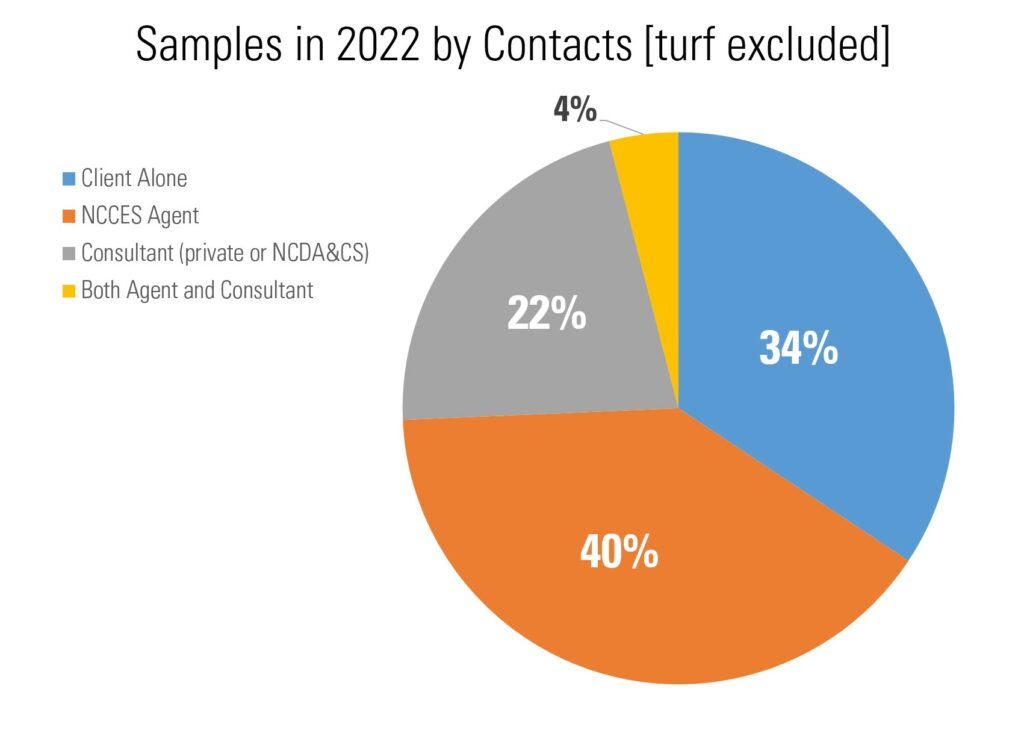 The majority of samples (including those for turf) came from home grounds (31%), followed by crops in the field (20%), greenhouses (13%), golf courses (11%), households (6%), and container nurseries (4%; tied with commercial grounds).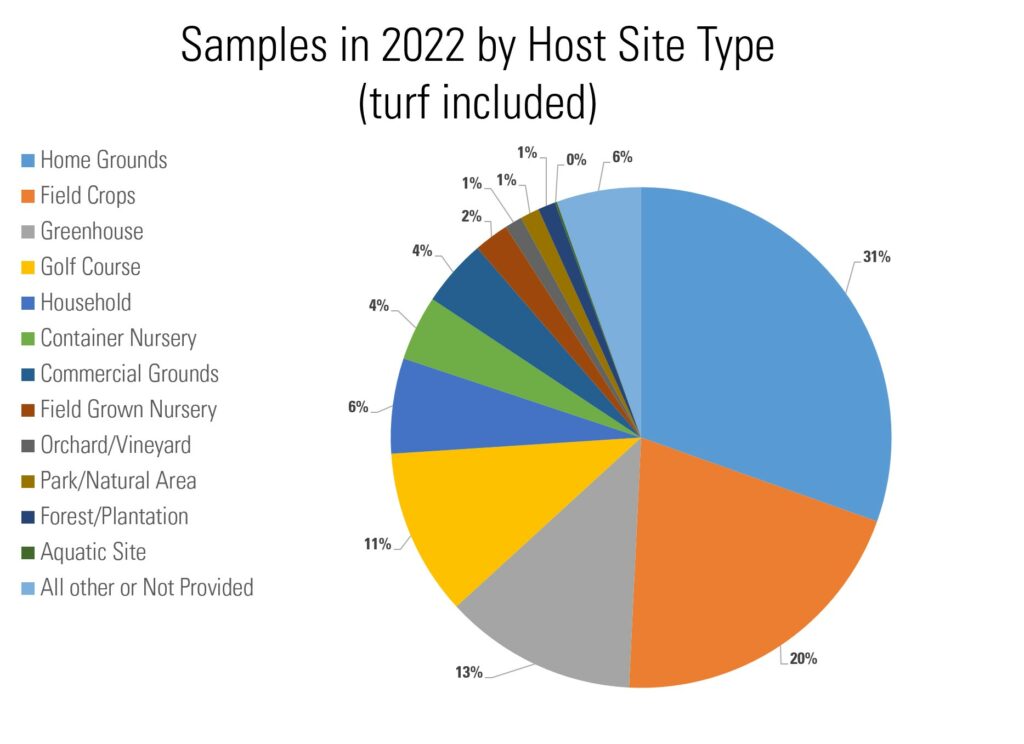 The most common types of hosts submitted were trees and shrubs (26%), followed by field crops (17%), turf and ornamental grasses (15%), vegetables and herbs (15%), and perennial plants (7%). Interestingly, field crops and vegetables/herbs swapped ranks from 2021. We are not sure yet where the increase came from, but we will be investigating this trend.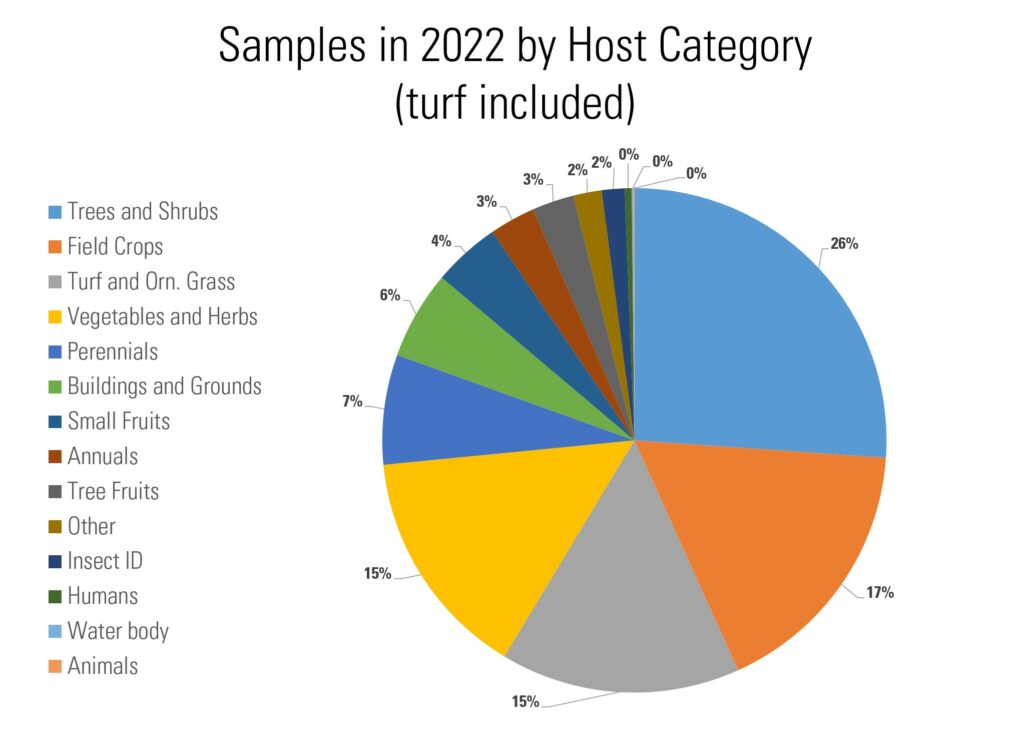 Finally, before we get to diagnoses, below are the "Top 40 Hosts" submitted in 2022. Note that 126 plant genera were received only once during 2022. Also there was a steep drop in hemp samples, going from 20 in 2021 to four in 2022. Note: "Home and Garden" and "Arthropod ID" overlap, with some additional overlap with dwellings.
Results
Below are summaries of the most common diagnoses for our most common hosts.
Tobacco was the most commonly submitted plant for diagnosis, comprising close to 10% of all of our samples! Granville wilt (Ralstonia) and black shank (Phytophthora nicotianae) were very common, as were Alternaria and bacterial soft rot/ stalk rot. We even diagnosed tobacco with the thrips-transmitted Tomato Spotted Wilt Virus (TSWV), which was prevalent this year in many hosts and not diagnosed from tobacco in a few years.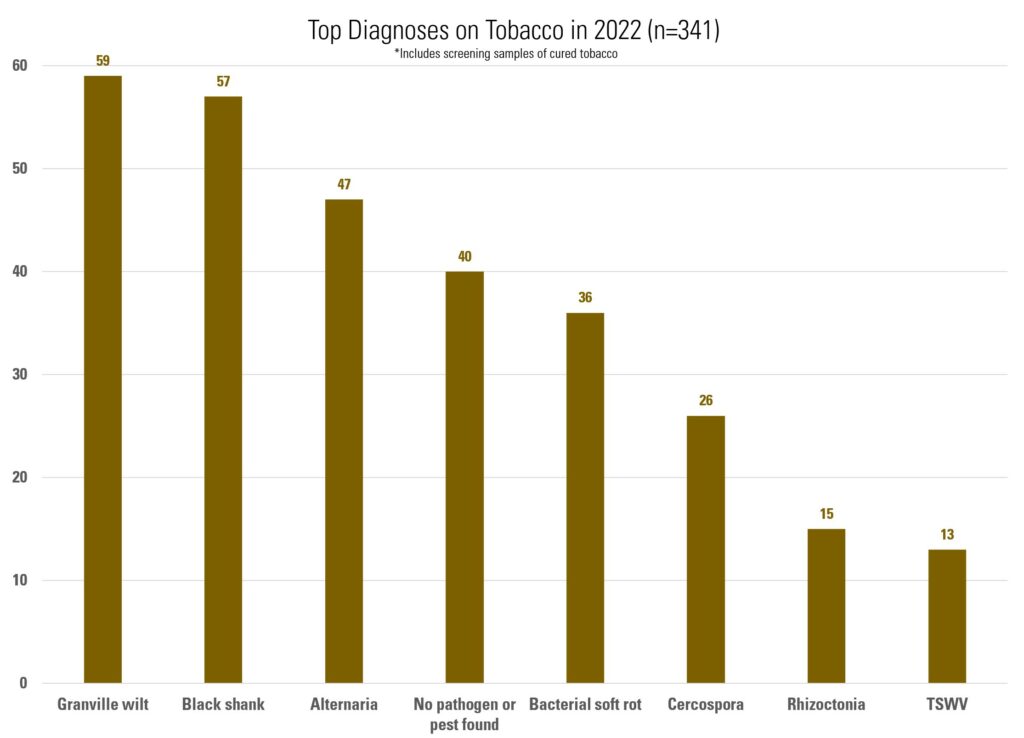 Tomatoes were the second most commonly submitted plants in 2021 and, as such, numerous pests and pathogens were found in this host. Abiotic and other disorders were the most commonly identified issues. Beyond that were several plant pathogens, including TSWV, Southern bacterial wilt (Ralstonia), and others. Tomato Yellow Leaf Curl Virus (TYLCV), transmitted by whiteflies (Bemisia), was more common than in other years.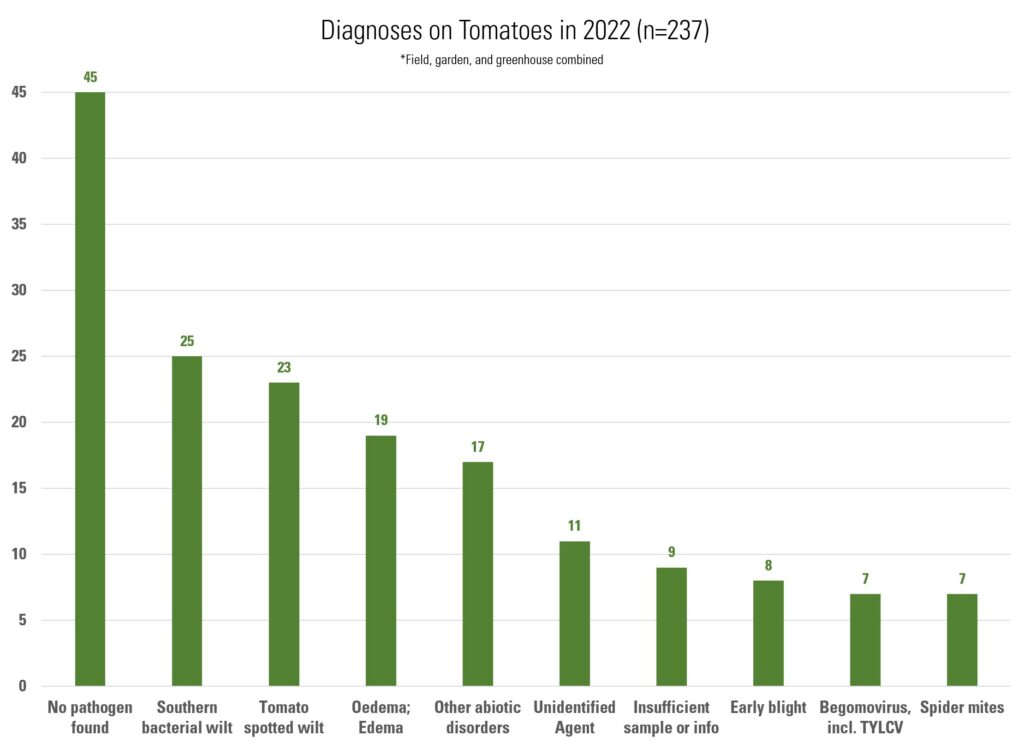 Strawberries suffered from numerous abiotic disorders, but on the disease side Botrytis and Colletotrichum were the most prevalent organisms found, as well as some Phytophthora and Pythium. As for arthropods, spider mites made the list (not surprising), but despite requests to check for cyclamen mites (Phytonemus pallidus), they were only diagnosed a few times (though in high densities sometimes).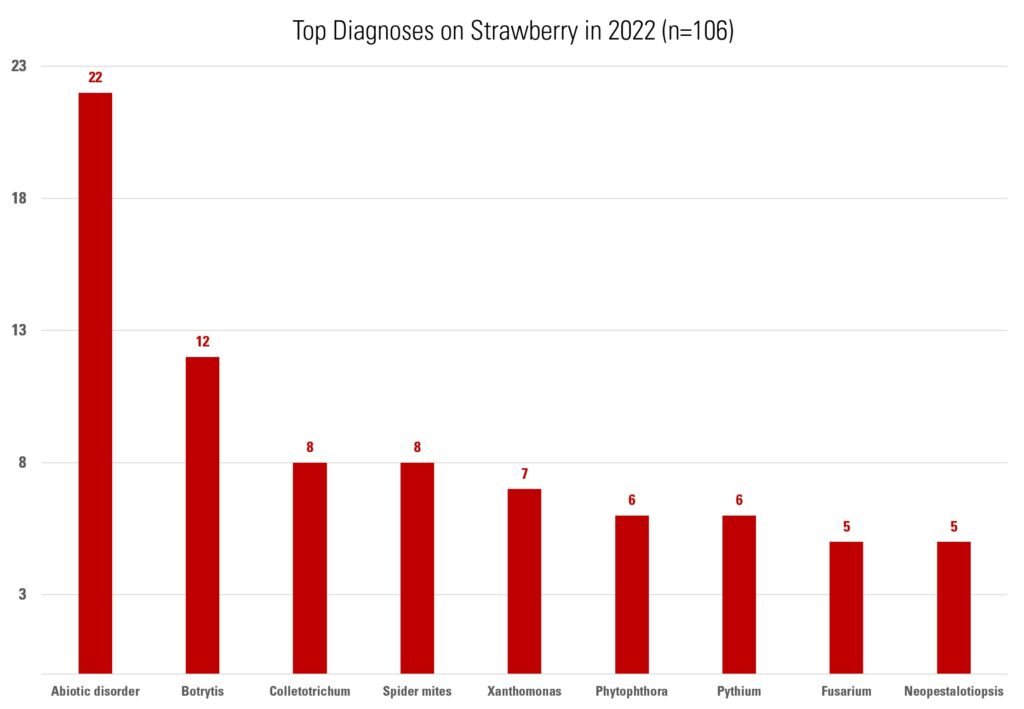 Cucurbits also appeared to suffer from more abiotic disorders than disease or arthropod pests. The "mildews" (both downy and powdery) were the most common diseases found, while spider mites and thrips were the common arthropod pests of cucurbits.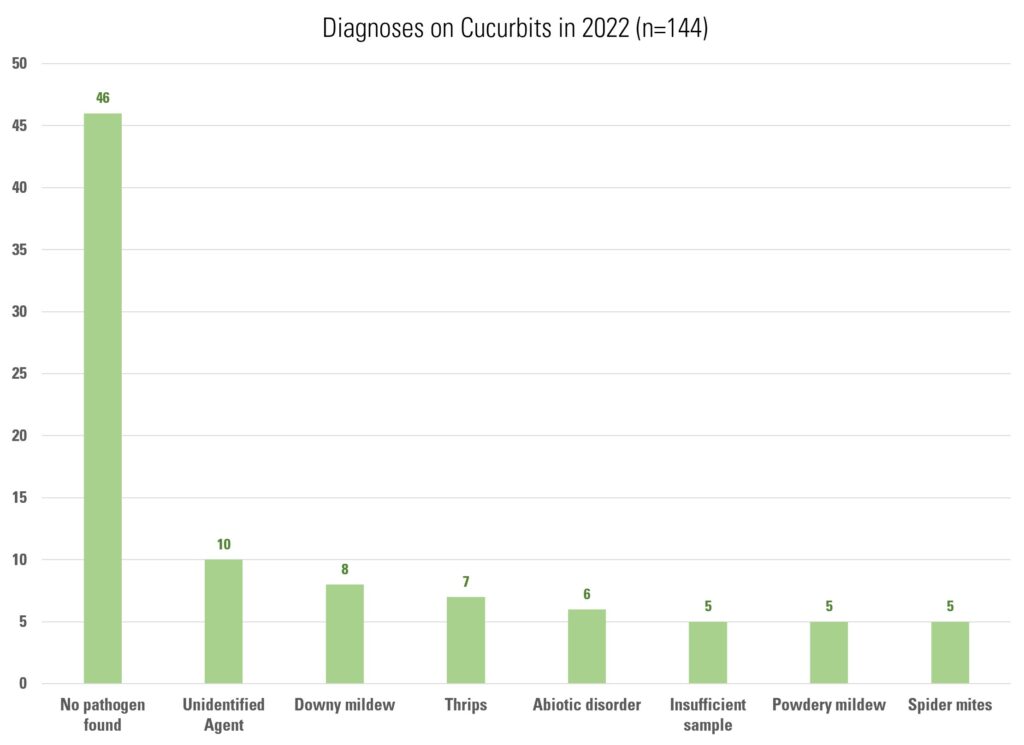 Finally, declining boxwoods (Buxus spp.) were commonly sent in to the clinic, many for identification of the destructive disease boxwood blight (Calonectria pseudonaviculata). There was state-wide, active screening of samples for this disease as well. Most commonly, several diseases, nematodes, and typical boxwood arthropod pests (mites and leafminers) were identified from boxwoods. Some issues were either abiotic in nature, or we were unable to identify the cause of the problem due to lack of sufficiently good samples.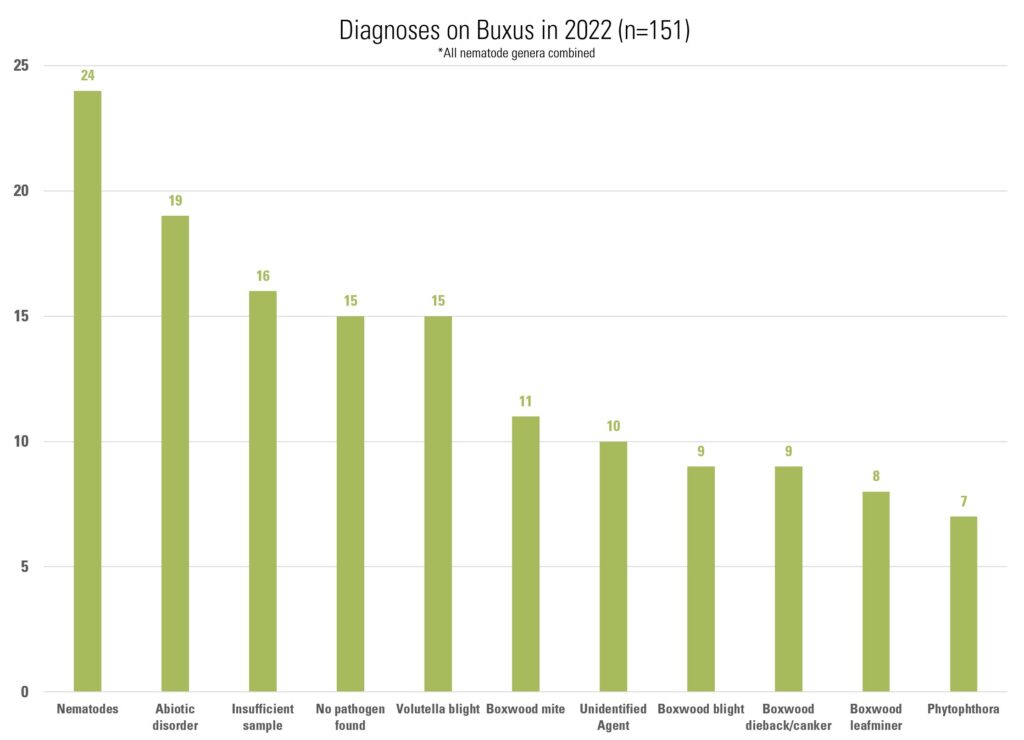 Notable Finds
Every year the clinic identifies organisms that are new, either to the country or state, or represent a significant host shift or record. The following are some of the notable organisms we identified in 2022:
| | | | |
| --- | --- | --- | --- |
| Pest/Pathogen | Host | First Report: NC | New Pest/Host Combination |
| elm zigzag sawfly (Aproceros leucopoda) | American elm (Ulmus americana) | X | |
| Japanese holly fern mottle virus (JHFMoV) | Japanese holly fern (Cyrtomium falcatum 'Rockfordianum') | X | |
| Urocystis trillium (smut) | Trillium sp. | X | |
| Alternaria celosiicola (leaf spot) | Celosia cristata 'Armor Orange' | X | |
| Plasmopara cercidis (downy mildew) | redbud (Cercis canadensis) | X | |
| Pseudomonas asplenii (bacterial blight) | Birds Nest Victoria Fern (Asplenium nidus 'Victoria') | X | |
| Rosellinia necatrix (root rot) | American beautyberry (Callicarpa americana) | X | |
| Sawadaea polyfida (powdery mildew) | Japanese maple (Acer palmatum) | X | |
| Xanthomonas axonopodis pv. citri (citrus canker) | Lime (Citrus limetta) | X | |
| Curvularia lunata (Curvularia leaf spot) | corn (Zea mays) | | X |
| Gnomoniopsis smithogilvyi | chestnut (Castanea dentata) | X | |
| Coniella granati (fruit rot) | pomegranate (Punica granatum) | X | |
| Drechslera sp./spp. | hemp (Cannabis sativa) | | X |
| Neopestalotiopsis saprophytica | Japanese Persimmon (Diospyros kaki) | | X |
Other Highlights
Besides performing diagnoses, lab members gave numerous extension talks and webinars. Mike Munster and Matt Bertone continued to provide updates on arthropods and diseases for the Plants, Pests and Pathogens webinar series for extension master gardener volunteers (EMGVs).
With help from collaborating specialists, the lab also planned and lead the 2022 Plant Problem Diagnostics Short Course for the Central Region of NC. During this week-long event, 19 extension agents from across the region gathered to look at diseases and pests out in the field, then attended sessions in the lab to help them build their diagnostic skills. Based on evaluations of the course, it was a great success! We hope to do more of these workshops in the future.
One other major effort was the development of an online decision guide for submitting samples of various "cypresses". These plants, especially arborvitae and Leyland cypress, are common in landscapes and have numerous problems, many of which are not caused by pests or diseases. This effort was made so that agents and clients could better identify these problems, and make informed decisions on whether and how to submit samples to the clinic. The guide provides key identifying characters and has photos of the symptoms being described. We hope it's valuable to a broad audience!
Lab Publications
Bertone, M.A., K.L.F. Oten, E.J. Redick, and A.R. Ratcliff. Notes on larvae of the rarely collected wood gnat genus Olbiogaster (Diptera: Anisopodidae). Proceedings of the Entomological Society of Washington. (in press)
Chetverikov, P.E., and M.A. Bertone. (2022) First Rhyncaphytoptine Mite (Eriophyoidea, Diptilomiopidae) Parasitizing American Hazelnut (Corylus Americana): Molecular Identification, Confocal Microscopy, and Phylogenetic Position. Experimental and Applied Acarology.
Efromson, J., R. Lawrie, T.J.J. Doman, M. Bertone, A. Bègue, M. Harfouche, D. Reisig, R.M. Roe. (2022) Species Identification of Caterpillar Eggs by Machine Learning Using a Convolutional Neural Network and Gigapixel Microscope. Agriculture, 12(9), 1440.
Gagné, R. J., and M.A. Bertone. (2022) Redescription of Dentifibula viburni (Felt) (Diptera: Cecidomyiidae) and review of the genus. Zootaxa. 5175 (5): 583–592.
Skvarla, M.J., Bertone, M.A., and Liesch, P.J. (2022) Murder Hornet Mayhem: The Impact of the 2020 Giant Hornet Panic and COVID-19 Pandemic on Arthropod Identification Laboratories. American Entomologist. Volume 68, Issue 2, Summer 2022, Pages 38–43,
Bertone, M. A., Gibson, J. C., Seago, A. E., Yoshida, T., & Smith, A. A. (2022). A Novel Power-Amplified Jumping Behavior in Larval Beetles (Coleoptera: Laemophloeidae). PLOS ONE 17(1): e0256509.
Moparthi, S., Kleczewski, N. 2023. First report of curvularia leaf spot on Zea mays caused by Curvularia lunata in North Carolina. Plant Disease.
Moparthi, S., Parikh, L.P., Troth, E.E.G., and Burrows, M. E. 2022. Identification and prevalence of seed-borne Botrytis spp. in pulses of Montana. Plant Disease.
Bradshaw, M., Quijada., Tobin, P.C., Braun, U., Newlander, C., Potterfield, T., Alford, E.R., Contrearas, C., Coombes, A., Moparthi, S., Buchholz, E., Murphy, D., Enos, W., Fields- Tyalor, A., Bower, A., and Pfister, D. H. 2022. More than just plants: Botanical gardens as a source of fungal diversity. HortScience.
Moparthi, S., Johnson, A., and Braun, U. 2023. Podosphaera cerasi– An old foe of sweet cherry with a new name – its biology, epidemiology, and beyond. Accepted in the Journal of Plant Pathology.
Common Pantry Pests and their Management. S. Crawley & M. Bertone. 2022 NC State University Extension Publication
Elm Zigzag Sawfly. K oten & M. Bertone. 2022 NC State University Extension Publication – Invasive Forest Pests
Conclusions
The PDIC received numerous samples in 2022, resulting in thousands of diagnoses that helped homeowners, growers, researchers, and other clients identify plant problems and arthropods. Many of these diagnoses lead directly to timely and accurate management recommendations. Samples also helped agricultural extension agents and extension master gardener volunteers (EMGVs) learn to diagnose issues for themselves, by verifying the culprits (or bystanders).
Finally, we are very grateful to have so many collaborators and specialists who aid us in diagnosing related plant issues. There are too many to name individually, but we appreciate the help from members of NC State Horticultural Science, Crop and Soil Sciences, Plant and Microbial Biology, as well as specialists from the North Carolina Department of Agriculture and Consumer Services and other organizations.
We look forward to serving you in 2023!
Links to reviews from previous years:
2021